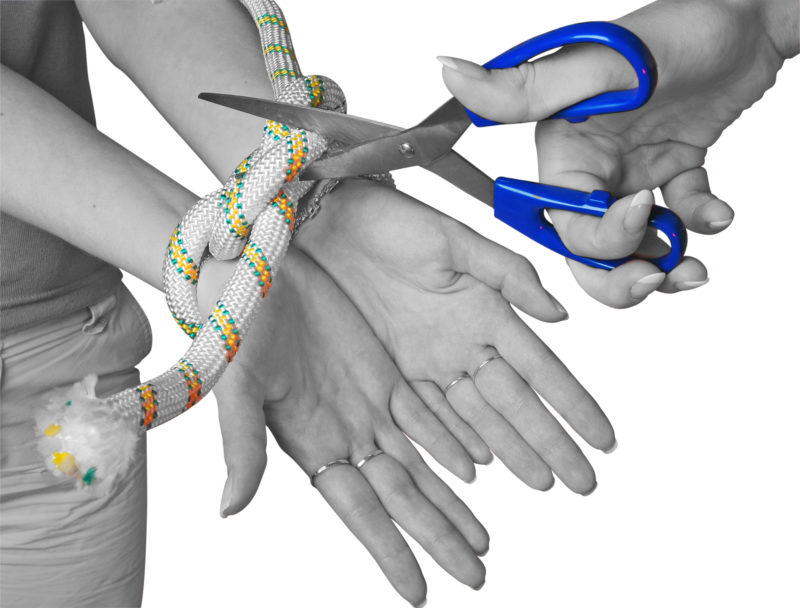 26 Oct

Why Pay for Slack?
Does "Free" Slack Pricing Cost  Too Much?
Are you using Slack for "free"? When will you need to be freed from the severe limitations of only having 10,000 chats, no guests and 5Gb of storage?  Ryver is one flat fee and has none of the limitations of Slack. 
With Ryver, we did not deliberately set out to "clone" Slack. Yet that is what we ended up doing. We needed to build a great import tool from Slack to Ryver for all our customers who wanted to switch. 
Slack has three major elements: channels, direct messages, and private groups. Ryver has three elements: forums, teams and users. This is how Slack's elements map onto Ryver's. (NOTE: We changed the name of "Forums" to "Topics.")
Migrating your Slack account into Ryver is seamless — all your channels, users, messages and files import into Ryver and show up right where you expect them to be. It's easy and fast.
Is Ryver a Slack Clone?
Some will mock us for being a "clone". Fine with me. People mocked SalesLogix saying it was "ACT! on steroids." I would say "You bet! That is exactly what it is."  We went from $0 to $108MM in 5 years.
At first I didn't like that we ended up being a clone. But in demos recently, prospects LOVED that we worked just like Slack in all the essential ways. Slack did many things right. We would be stupid not to copy them, then make Ryver even better.
One of the best things about Ryver is the flexibility of building forums and teams. 
Each forum and team can have as many guests as you like. A guest can be be a member in as many forums and teams as you need. (With Slack, a guest can only be in one channel or you have to pay for them.) In Ryver teams, you can give members and even guests the ability to invite others. That's especially useful when you don't really know who all needs to be part of a team.
And the thing that makes that possible is Ryver's One Flat-Rate pricing. Once you realize that you really need those "paid" features from Slack, you'll experience the Slack "gotcha." Slack costs $8 per user per month. Ryver is always One Flat-Rate – just $99 a month – regardless of your number of users.
Topical Discussions like Facebook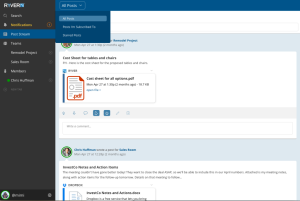 Ryver has "Topics" just like Facebook and Yammer. (We cloned them too!) Adding Topics to chat makes Ryver the best platform for team communication. Chat is for rapid fire, almost random conversation especially when you know someone is online. For topic based, threaded conversation you NEED Topics! Especially when there are lots of people on a team who are not always online for quick chats.
We used to say, "Topics are like a meeting." Now we say, "Topics are the meeting!" With Topics, I can have seveal meetings going on at the same time. They take place over days and weeks as people post their thoughts and comments on an important topic.
And with Topics, there is always a written record of that meeting. People can always go back and refer to it. New people can trace back to the beginning and in a very short time be completely up to speed with what a team or forum has been discussing.
Doing that with email or chat is impossible. With Topics, it's easy!
Integrations
O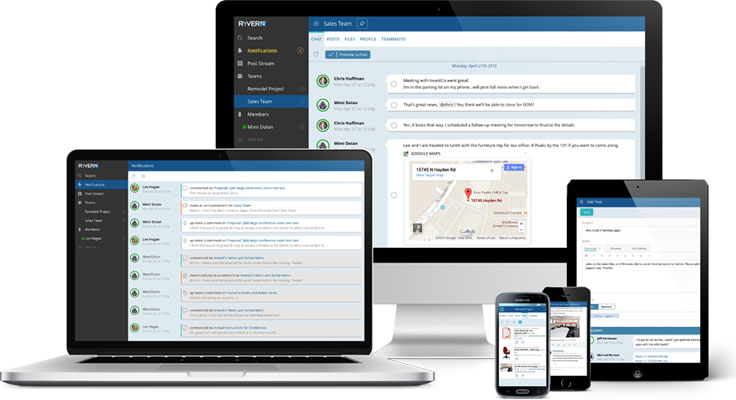 ne area we have not yet matched Slack are their integrations. We do natively integrate with Zapier, Dropbox, Box, Google Drive, Hangouts, GMail and Chrome. Slack has done a really good job building integrations to about 100 applications including Zapier. We integrate with over 500 applications through Zapier. Zapier is really good. You can do some very powerful integrations without being a programmer. We are building more native integrations, but for now our integrations are great for most users.
Ryver runs natively on everything: Mac, Windows, Linux, iOS, and Android. All the functionality on every device. And everything stays totally in sync.
To give Ryver a try click here.
The Clone Wars have begun!