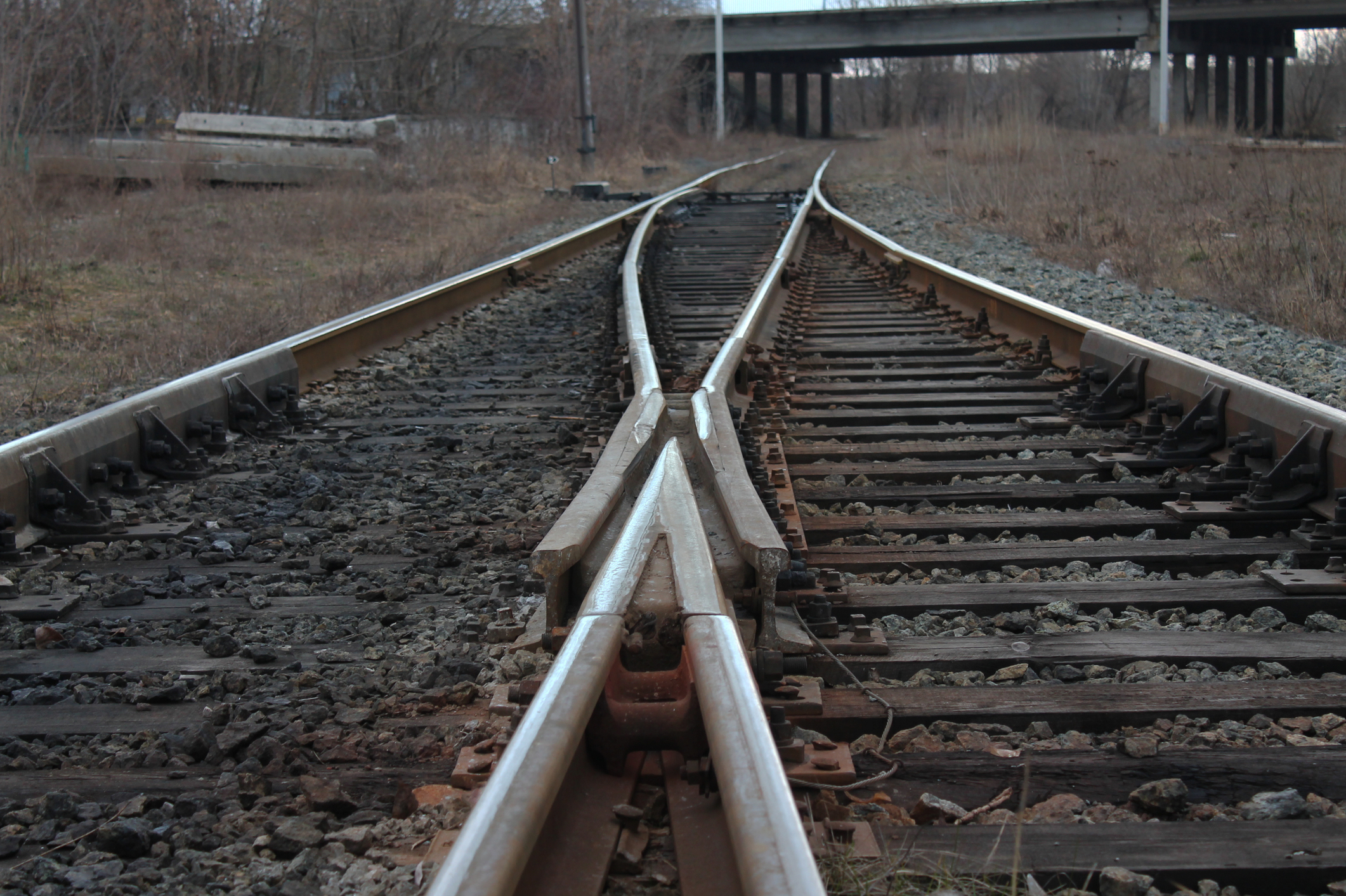 25 Oct

5 Reasons You Should Switch Your Slack Community to Ryver

The functionality found in Slack is a big draw to special interest communities. Using forum, extranet, listserv software just sucks. Slack provided a way for communities to engage with each other in ways never seen before. Since Ryver matches the structure and most of the functionality of Slack, you can easily switch. Ryver is a clone of Slack but adds a few major things that are better than Slack. In Ryver, Forums = Channels, Users = Direct Messages, Teams = Private Groups. And the best news is Ryver's flat-rate pricing limits nothing.  Unlimited number of chats, storage and guests.

Some will mock us for cloning the essentials of Slack but I say "you betcha we did!" With their amazing success anyone in this new category, we'd be stupid not to copy the best things they did, BUT make it better! Slack cloned IRC and made it a whole lot better. Why not do the same? Someone said to me, "Ryver is Slack on steroids." I responded "Absolutely!"

Lot's of people running into the "tripwires" in Slack's free version are often surprised that Slack is not really free. Sure you can use the stripped down version – sort of. If you can live with only searching the last 10,000 chats, no guests, and 5Gb limits then you can use Slack for free. But if you really use it the way team communication ought to work, you WILL pay for Slack.  Or you will switch to Ryver!

Here are the top 5 reasons your community (or team) should switch to Ryver.

Pain

It's a huge pain that your chats disappear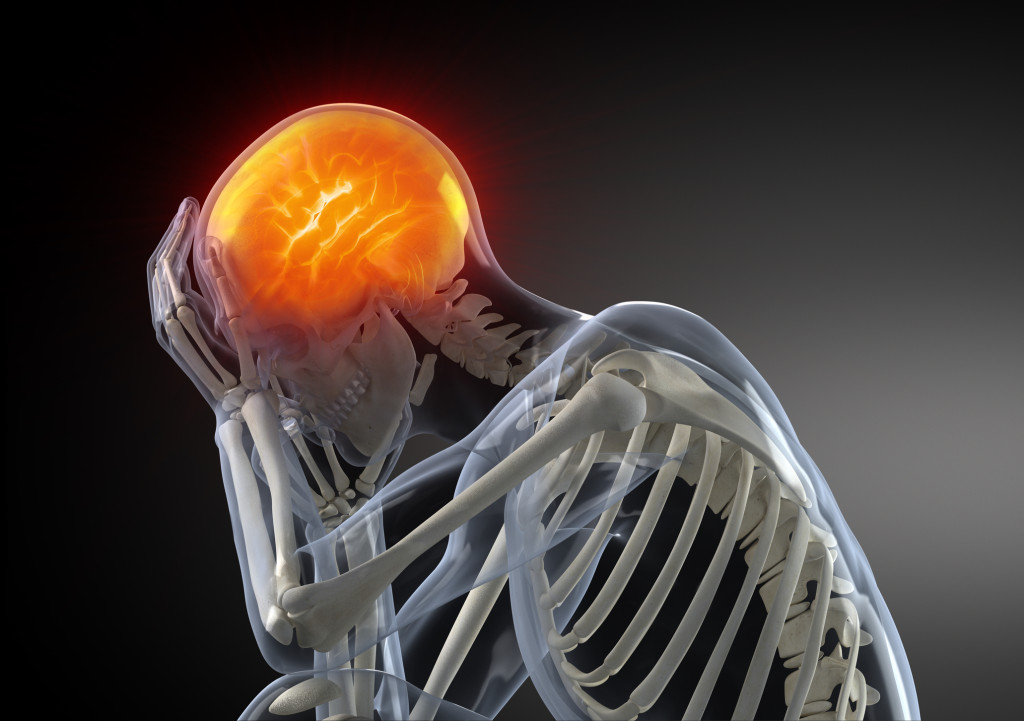 in days and sometimes even hours. Search can't find them. They are gone! In a very large group it is entirely possible the chat you did a day or even a few hours ago is gone. Poof! Gone. Not in Ryver.
5Gb is not enough storage. You have to decide what Files to delete as you continually go over that limit. A pain in the ass! Not in Ryver.
Not having guests in Slack channels means you have to let everyone see everything in every channel. Ryver allows you to let guests be a part of just the channels/forums you want them to see but not anything else. Forums are open to all full Members. Guests can be included in each forum/channel you want them to be able to contribute to. Everyone in the forum knows who the guests are with one click. It gives community managers far more flexibility to build exactly the kind of communities they want. One size does not fit all.
Ryver simply has NO limits on anything! We found the best way for groups to include everyone they needed, team communication had to be one price, regardless of the number of users.
Import Slack Data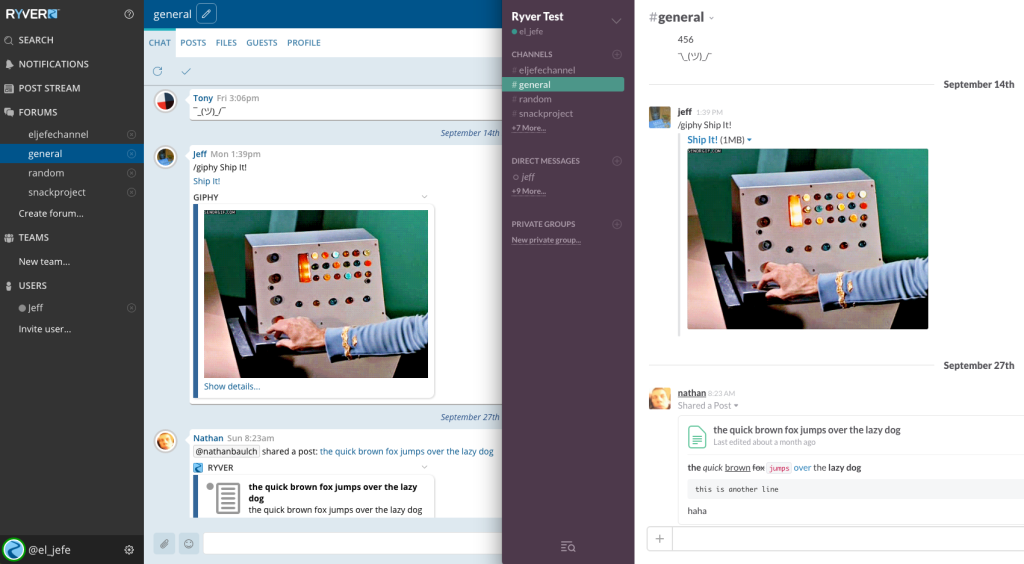 Ryver imports all your Slack channel names, channel messages, files and users just the way you would expect. (We cannot get
to anything in Slack's direct messages or private groups. Those are truly private in both Ryver and Slack.) All you need is your Slack API key and everything gets imported into Ryver. Unfortunately all your Chats over 10,000 and Files that bust your 5Gb limit are gone. Wish we could do something about that but we can only get what you can get to!
Topics
Chat is not enough. In real life we have 2 kinds of communication: small talk and serious discussions.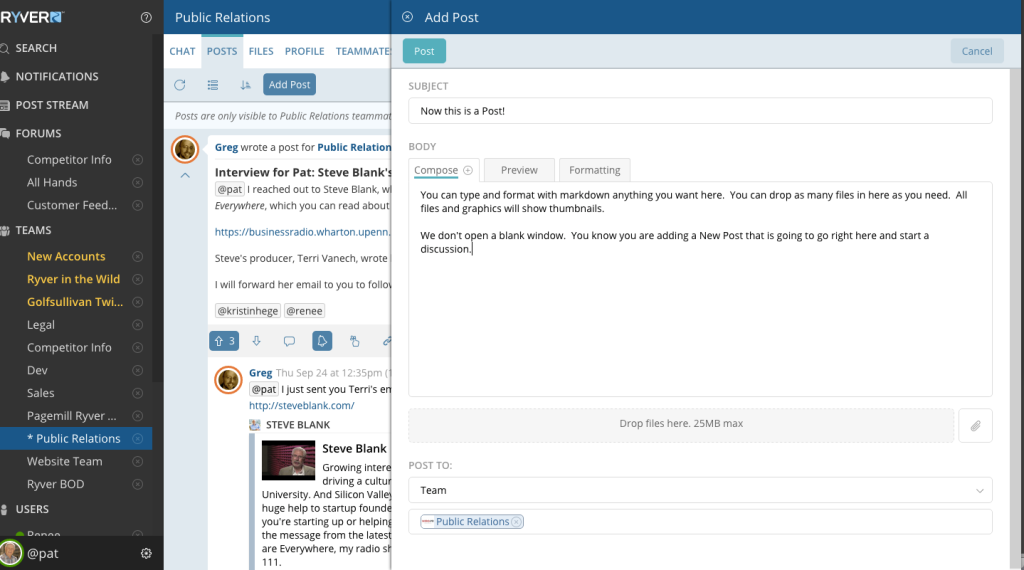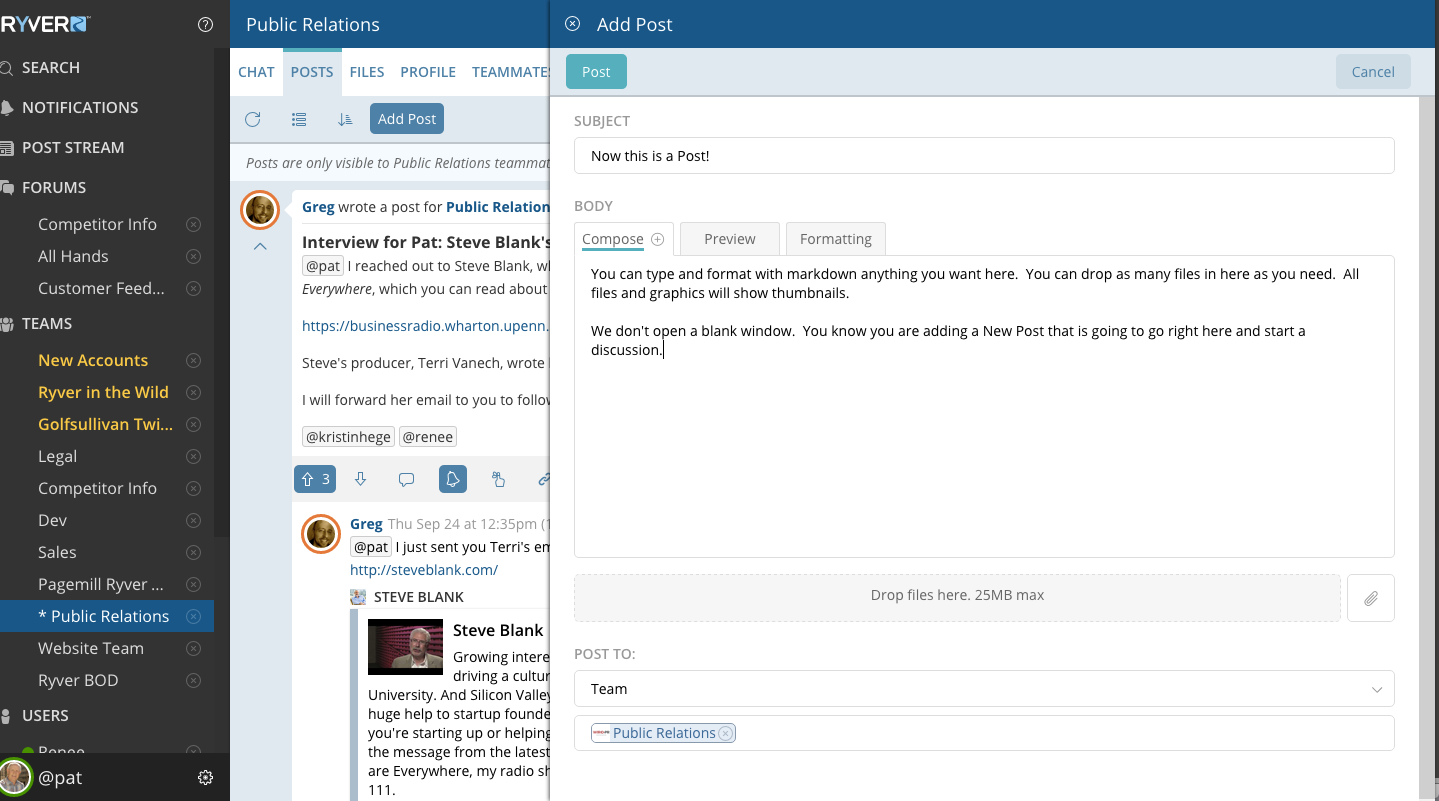 We chat – fast back and forth question, answer, comment and you are done. In Ryver usually you chat one to one with someone and mostly when you see they are online.
When we discuss a topic, discussions can go on for days, even weeks. It doesn't matter if someone is online. They will see the discussion and comments when they are back online. It is easy to follow the conversation even with dozens of people in a group who are part of a discussion. The discussion is totally organized. It's like Facebook or Yammer. We cloned them too!
Our experience is that 80% of the time in a 1:1, user to user conversation, they use Chat. In groups, 80% of the time they use Topics.
Files  
In Ryver all files are in context with each Forum, Team or User.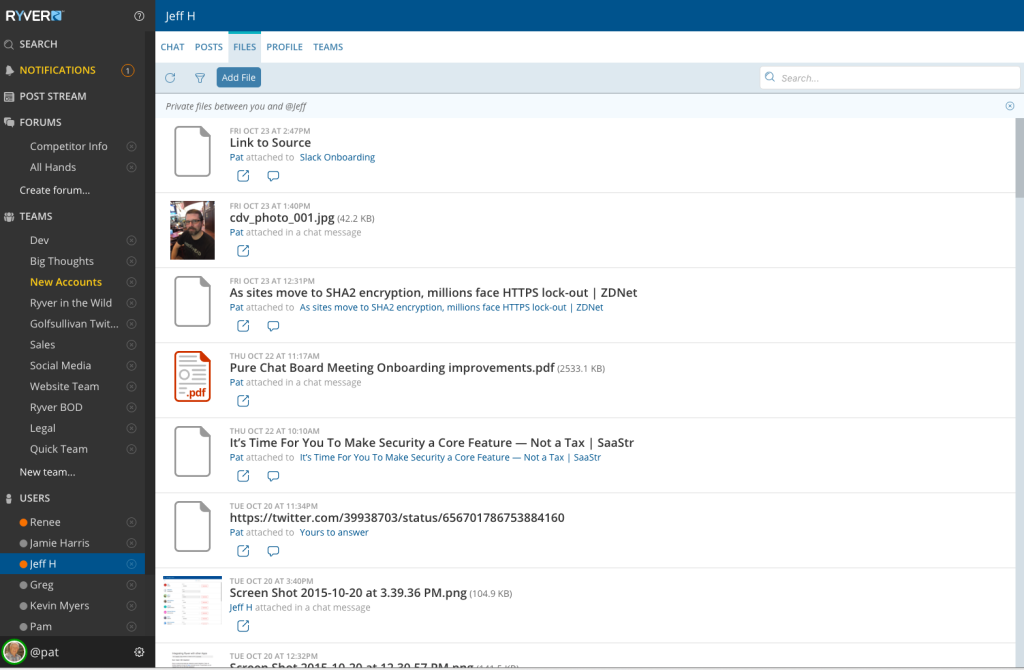 All the files are one click away, right where you need them. No lists with pointers to a channel. Files can upload from your computer or Google Drive, Dropbox, Box or a link from Sharepoint etc. 
You can have an unlimited number of files in Ryver.  We only store the links when using Google Drive, Dropbox or Box. We store the file when you upload from your own drive.
Files are collaborative too.  You can have discussions about the Files right there in context.
Central Notifications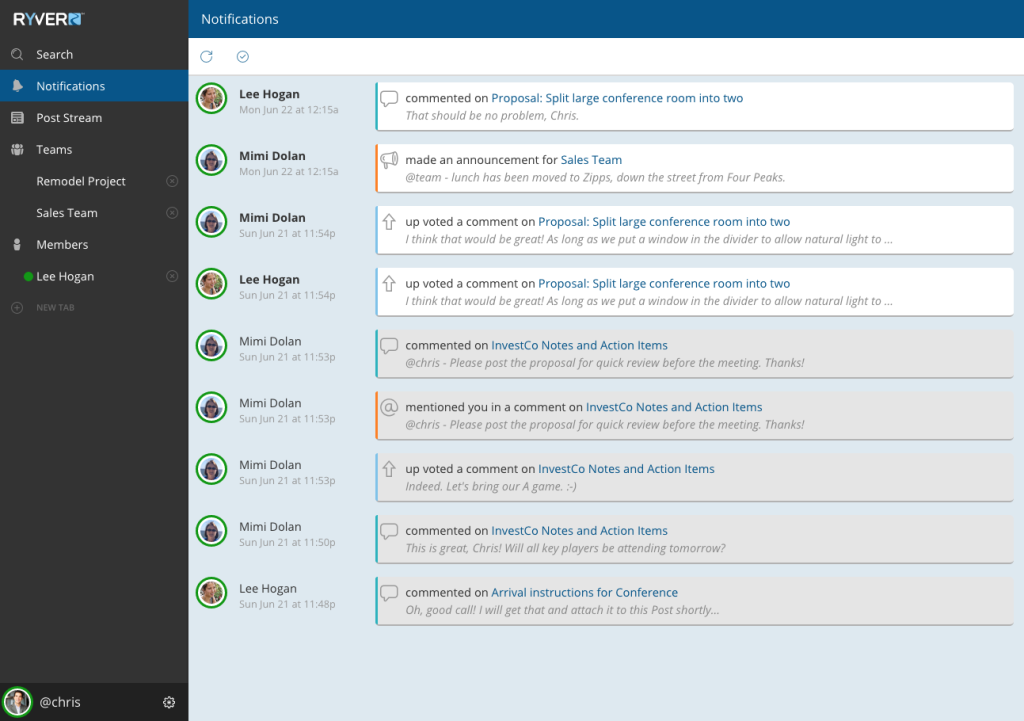 It is awesome to see my notifications all in one place. There is often enough info in the notification that I don't have to go anywhere else to see more info. I can see someone upvoted some post or comment. With Slack I have to open up each Channel to see what is new. Often the new stuff is not very useful. Sort of like email – you have to open the email to read it to find out if you really need to read it. Ugh!
You can get very granular on what you get notified of. Otherwise you would get overwhelmed with notifications. You get notifications only of the things you want. Get signal – not noise.
Optionally, notifications can go to email as well. And if you reply to the email it gets posted in the correct Forum, Team or User as if you typed it there. It is a great way to transition the email hold-outs who can't quite let go of the email for team communication just yet.
These are the 5 main reasons you should switch your community or team from Slack to Ryver. Since your group knows how to use Slack, they already know how to use Ryver. The great new functionality is not hard to learn since it is so much like things you already know how to use.
Switch today by signing up here. Wherever you want to go, Ryver gets you there.